Description
"Of all the nut butters, walnut butter has the most omega-3 fatty acids." They have long been accepted as "brain food" and are known to benefit the heart. The heartful fat ratio helps lower LDL cholesterol, increase HDL cholesterol and reduce inflammation.
Ketogenius Kitchen's walnut butter added nothing but pure natural lightly roasted walnut with tiny little salt to enrich the dense earthiness nutty flavor of the walnut.
Ketogenius Kitchen's walnut butter uses Chilean walnut, which is considered the best in the world for having the sweetness taste among walnuts. It is thick, smooth with a tiny bitter after taste flavor which comes from the walnut skin. If you love walnuts, you will definitely enjoy the earthy and buttery, with a strong tannic flavor.
It is a perfect match in pairing with sweet flavors, like chocolate or cinnamon to balance out the strong taste. It's a great binding agent, so use it to firm up your veggie low-carb burgers and add a nice, nutty texture.
Combo Promotion
Applicable to Pistachio butter, Almond butter, Almond Crunchy butter, Almond Cinnamon Crunchy butter, Hazelnut butter, Cashew butter, Pumpkin Seed butter & Walnut Butter:
Buy any 2 Nuts/Seeds butter save 5%
Buy any 3 Nuts/Seeds butter save 6%
Buy any 4 Nuts/Seeds butter save 7%
Buy any 5 Nuts/Seeds butter and above save 8%

Benefits
Super-high levels of omega-3 fatty acids, and they also have anti-inflammatory properties which is great for people suffering from arthritis and autoimmune diseases. The healthful fat ratio helps lower LDL cholesterol, increase HDL cholesterol, and reduce inflammation. Help improve memory and cognitive function, prevent depression, improve sperm quality, prevent prostate and breast cancer, improve motor function, prevent hear disease, aid in weight management, serve as energy booster, great for skin, hair and nails.
Nutrition Facts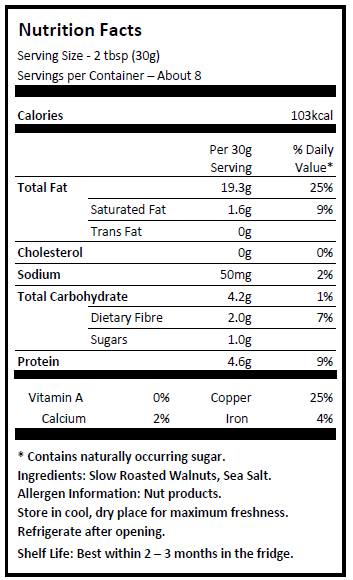 Allergen Information
Nut products
Storage Instruction
Store in cool, dry place for maximum freshness.
Shelf Life
Best within 6 months in the fridge