Description
Pumpkin seeds are not only keto-friendly, but they are a smart addition to your keto meal plan as they are packed with nutritional value and contain a meaningful amount of healthy fats, amino acids and vital nutrients.
A one-fourth cup serving of pumpkin seeds provide nearly 50% of your daily value of Magnesium which helps to maintain your blood pressure and reduced the blood sugar level. This help to maintain your physical health and may improve our sleep quality too.
Pumpkin seeds contain both omega-3 and omega-6 fatty acids which helps to fight free radicals and oxidative stress.
Benefits
Best source of omega-3 fatty acids including alpha-linolenic acid (ALA) which help heart health, reduced risk of artery heartening and anti-inflammation.

A good source of plant protein that improve insulin regulation and protect organs against consequences of diabetes.

The high zinc content in pumpkin seeds support male fertility.

Good sources of antioxidants that help delay in aging of cells.
Nutrition Facts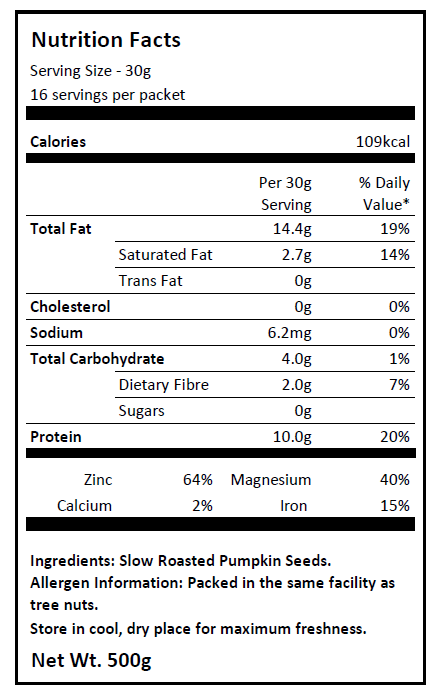 Origin
China
Certified Halal
This product has been certified as halal.
Allergen Information
Nut products
Storage Instruction
Store in cool, dry place for maximum freshness.