Description
Brazil nuts are among the richest selenium food sources and low-carb nuts. Selenium is an essential mineral and antioxidant that maintain the basic functioning of the body – immune system, thyroid and regulates nerves and cell growth. Consistent diet on selenium will lead to a clear positive result of glowing skin and soft hair. You just need to take an average of 2 Brazil nuts a day to obtain the ideal levels of Selenium. Just like all other nuts, Brazil nut is a versatile food item and can be paired with just about anything – garnish on top of your breakfast, sprinkle over salads or mix it to your dessert to enhance its flavor.
Benefit
Reduced LDL or the "bad cholesterol" and raise HDL or the "good cholesterol". Improve heart and liver health, regulate thyroid gland, keeping your metabolism in balance.
Nutrition Facts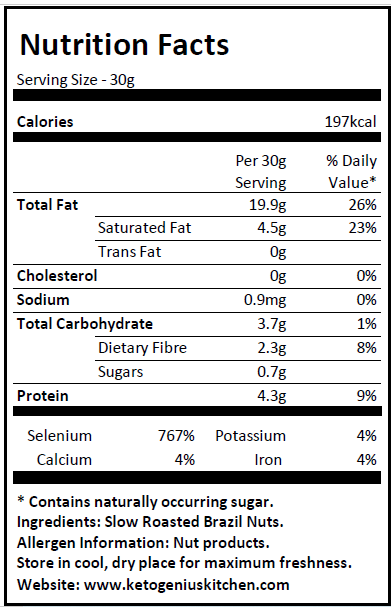 Origin
Peru
Allergen Information
Nut products
Storage Instruction
Store in cool, dry place for maximum freshness.