Description
Allulose is a rare sugar that naturally occurs in very small quantities in fruits like wheat, jackfruit, figs and raisins. It's about 70% as sweet as sugar.
Basic sugar (called sucrose) is the most well-known form of sweetener. But there are many other types of sugar that are in or added to foods. There are simple sugars, called monosaccharides, which contain a single sugar molecule. These include glucose, fructose, galactose, ribose, and xylose. And then there are disaccharides, which are two sugar molecules bonded together, like sucrose, lactose, and maltose.
Allulose is a monosaccharide. It has 90% fewer calories than sucrose, which makes it virtually calorie-free. In other word, Allulose doesn't have effect on blood sugars or an insulin response. So it's a good alternative for people with certain conditions like diabetes and overweight or people who are on keto diet.
Most importantly,
Allulose
is a favorable natural sweetener because it has a remarkably similar flavor to sugar, without any funky after taste. It's also about 70% as sweet as table sugar, so serves as a pretty simple sugar substitute, that you can trade spoon for spoon, while tapering your sweet tooth.
Allulose is generally recognized as safe. However, it is always important to consume in moderately amount whether if they're natural sugar because we do not want to rely on them too much. Try eating a balanced diet, eat whole, high quality foods that are minimally processed and that are lower in sugar.
Benefits
Lower blood sugar and insulin levels, Reduce body fat, Decrease the risk of type 2 diabetes, Promote weight loss, Support Lover Health, Anti-inflammatory properties.
Nutrition Facts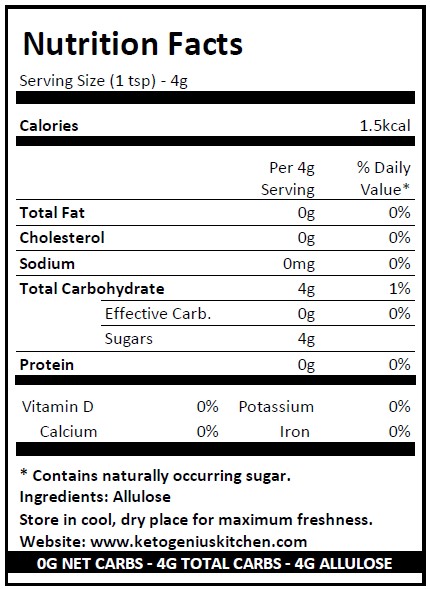 Allergen Information
Nut products
Storage Instruction
Store in cool, dry place for maximum freshness.