Description
We all have experienced the moments of being forgetful, even when we are young or getting older. If you like to taste a variation of nuts and in the meantime promote your brain health, I would say, this is definitely your choice.
You will be able to enjoy a variety of nutritious premium nuts with some mixture of natural sweet content of dried mulberries. Trust us, mix nuts and berries will always cheer you up.
Benefits
Hazelnuts: ✅ Brain enhancement ✅ Healthy bowel movement ✅ Keep skin healthy ✅ Heart Healthy
Cashews: ✅ Brain enhancement ✅ Good for the heart ✅ Healthy & shiny hair
Almonds: ✅ Brain enhancement ✅ Glowing & youthful skin ✅ Healthy bones ✅ Heart Healthy ✅Lower cholesterol level
Mulberries: ✅ Brain enhancement ✅ Good for the eyes ✅ Strengthen immune system ✅ Improve heart health
Nutrition Facts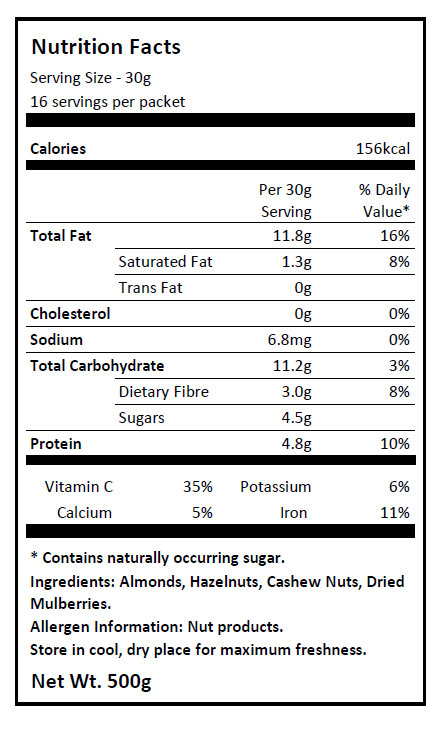 Allergen Information
Nut products
Storage Instruction
Store in cool, dry place for maximum freshness.