Description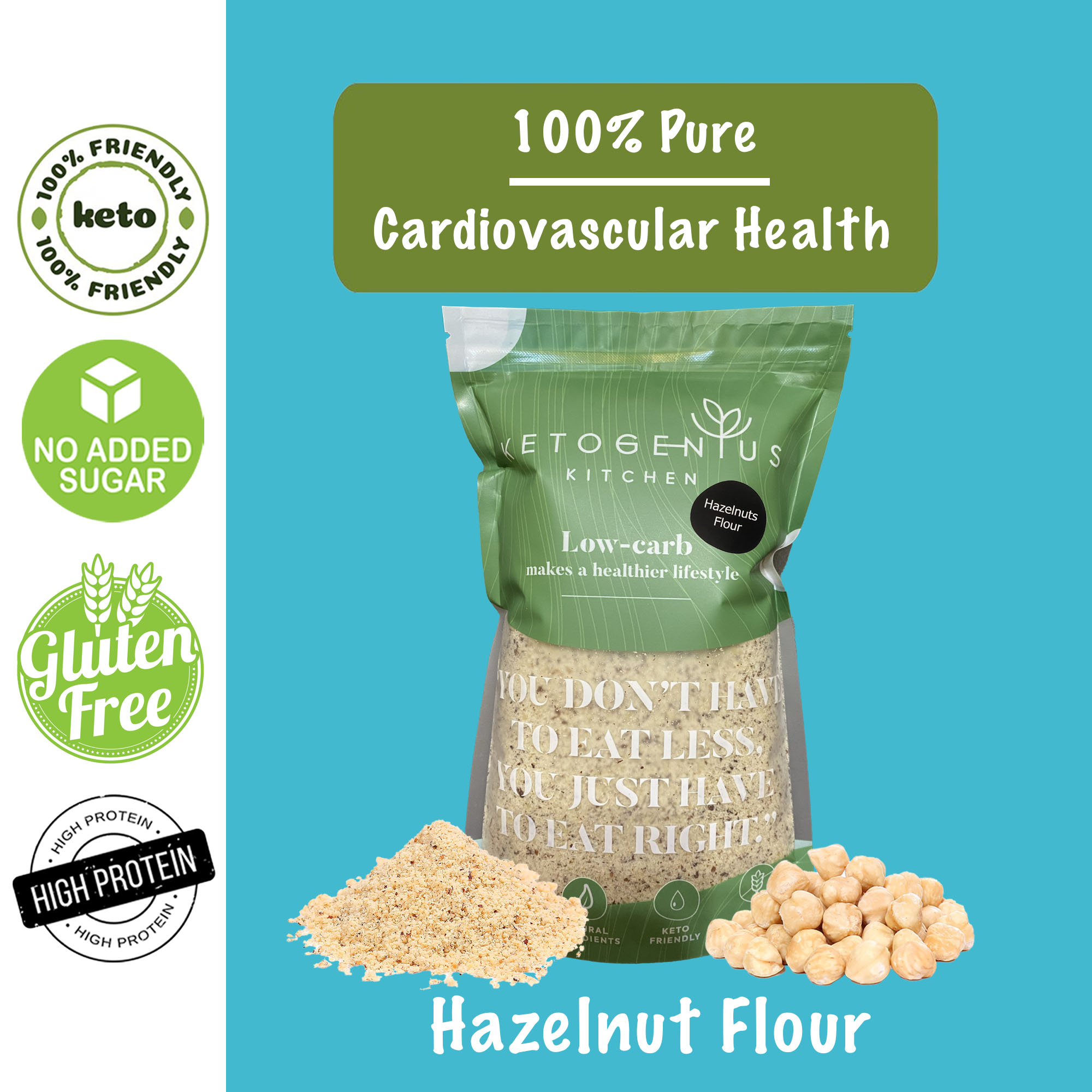 ⭐ Low-carb, Keto-friendly & Diabetic friendly
⭐ Premium packing with resealable bag
⭐ Great alternative to wheat-based flours
⭐ Incredibly nutritious for its vitamin and mineral content, fiber and healthy fat.
⭐ Extra-fine grind
⭐ 100% natural, no preservation, artificial-free ingredients
⭐ 100% Hazelnuts
⭐ Gluten free, Grain-Free and Vegan Friendly product
⭐ Halal certified
Though often out shined by other nut flours, hazelnut flour 𝐚𝐝𝐝𝐬 𝐫𝐢𝐜𝐡 𝐛𝐮𝐭𝐭𝐞𝐫𝐲 𝐟𝐥𝐚𝐯𝐨𝐫 𝐚𝐧𝐝 𝐡𝐞𝐚𝐫𝐭𝐲 𝐧𝐮𝐭𝐫𝐢𝐭𝐢𝐨𝐧 to pastries, cookies, pancakes, "quick bread" and more. Adding hazelnut flour to your recipe will add in lots of nutritious.

They are rich in unsaturated fats (mostly oleic acid), high in magnesium, calcium and vitamin B and E. They are good for your heart, help reduce the risk cancer, and aid in muscle, skin, bone, joint and digestive health. Round out your gluten-free kitchen and grab this nut-based substitute today!

𝐖𝐡𝐚𝐭 𝐃𝐨𝐞𝐬 𝐇𝐚𝐳𝐞𝐥𝐧𝐮𝐭 𝐅𝐥𝐨𝐮𝐫 𝐓𝐚𝐬𝐭𝐞 𝐋𝐢𝐤𝐞?
This flour substitute has a distinct hazelnut flavor that isn't so strong that it overpowers food, but it does shine through in baked goods. It is nutty and has a sweet, almost buttery taste that goes well in sweet and even some savory dishes

𝐂𝐚𝐧 𝐈 𝐮𝐬𝐞 𝐡𝐚𝐳𝐞𝐥𝐧𝐮𝐭 𝐟𝐥𝐨𝐮𝐫 𝐢𝐧𝐬𝐭𝐞𝐚𝐝 𝐨𝐟 𝐚𝐥𝐦𝐨𝐧𝐝 𝐟𝐥𝐨𝐮𝐫?
Hazelnut flour can used as an alternative to almond flour for most recipes. However, it'll work better in crumbly, nutty textured recipes. Almond flour is actually a lot denser than hazelnut flour, which doesn't hold its form quite as well. For cookies and sweet pie crusts, hazelnut flavor works great – substitute it at a 1:1 ratio.
Benefits
⭐ Heart health
⭐ Edible cancer prevention
⭐ Enhanced muscles
⭐ Savory skin health
⭐ Delectable bone health
⭐ Pleasant health to the nervous system
⭐ Supporting healthy bowel movement and reduce weight gain
⭐ Lowering cholesterol
⭐ Empower men's fertility
Origin
Turkey
Certified Halal
This product has been certified as halal.
Allergen Information
Nut products
Storage Instruction
Store in cool, dry place for maximum freshness.