Description
Our almond crunchy butter contains 2 simple ingredients only which are slow roasted almond(99.9%) and sea salt (0.1%). It is vegan and diabetics-friendly. Smooth almond butters blended with coarsely chopped almond bits, 100% natural with no added sugar, oil and preservatives. Besides pairing with low-carb bread, you can top it up to greek yoghurt and our low-carb granola to give an extra crunchy texture.
Combo Promotion
Applicable to Pistachio butter, Almond butter, Almond Crunchy butter, Almond Cinnamon Crunchy butter, Hazelnut butter, Cashew butter, Pumpkin Seed butter & Walnut Butter:
Buy any 2 Nuts/Seeds butter save 5%
Buy any 3 Nuts/Seeds butter save 6%
Buy any 4 Nuts/Seeds butter save 7%
Buy any 5 Nuts/Seeds butter and above save 8%

Benefits
Heart Healthy, Lower blood sugar levels, blood pressure and lower cholesterol levels; high in vitamin B and zinc which contributed to the maintenance of healthy skin; rich in vitamin E – an antioxidants nutrient; preventing weight gain and reduce breast cancer risk.
Nutrition Facts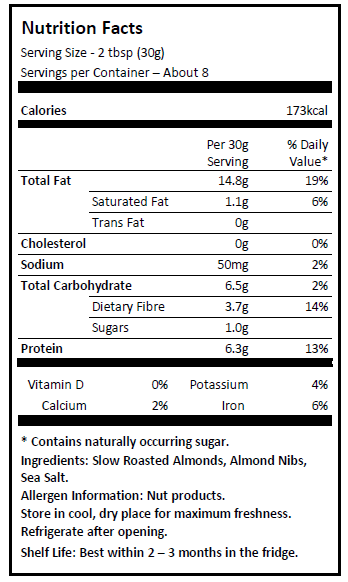 Allergen Information
Nut products
Storage Instruction
Store in cool, dry place for maximum freshness.
Shelf Life
Best within 6 months in the fridge