Description
Our almond butter (No Salt) contains single ingredient includes slow roasted almond (100%). It is vegan and diabetics-friendly. 100% natural with no added sugar, oil and preservatives. It has an ultra-thick and creamy taste, extremely savory, satisfying, and has the ideal texture and consistency without additional oil and sugar in it; the way almond butter is supposed to be! Besides pairing with low-carb bread, you can also use for cooking, baking or topping for salad or chicken.
Combo Promotion
Applicable to Pistachio butter, Almond butter, Almond Crunchy butter, Almond Cinnamon Crunchy butter, Hazelnut butter, Cashew butter, Pumpkin Seed butter & Walnut Butter:
Buy any 2 Nuts/Seeds butter save 5%
Buy any 3 Nuts/Seeds butter save 6%
Buy any 4 Nuts/Seeds butter save 7%
Buy any 5 Nuts/Seeds butter and above save 8%

Benefits
Heart Healthy, Lower blood sugar levels, blood pressure and lower cholesterol levels; high in vitamin B and zinc which contributed to the maintenance of healthy skin; rich in vitamin E – an antioxidants nutrient; preventing weight gain and reduce breast cancer risk.
Nutrition Facts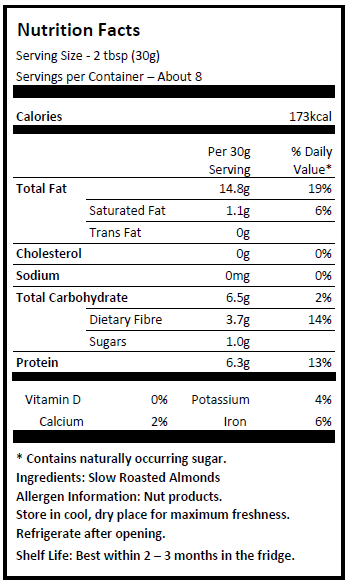 Allergen Information
Nut products
Storage Instruction
Store in cool, dry place for maximum freshness.
Shelf Life
Best within 6 months in the fridge