Description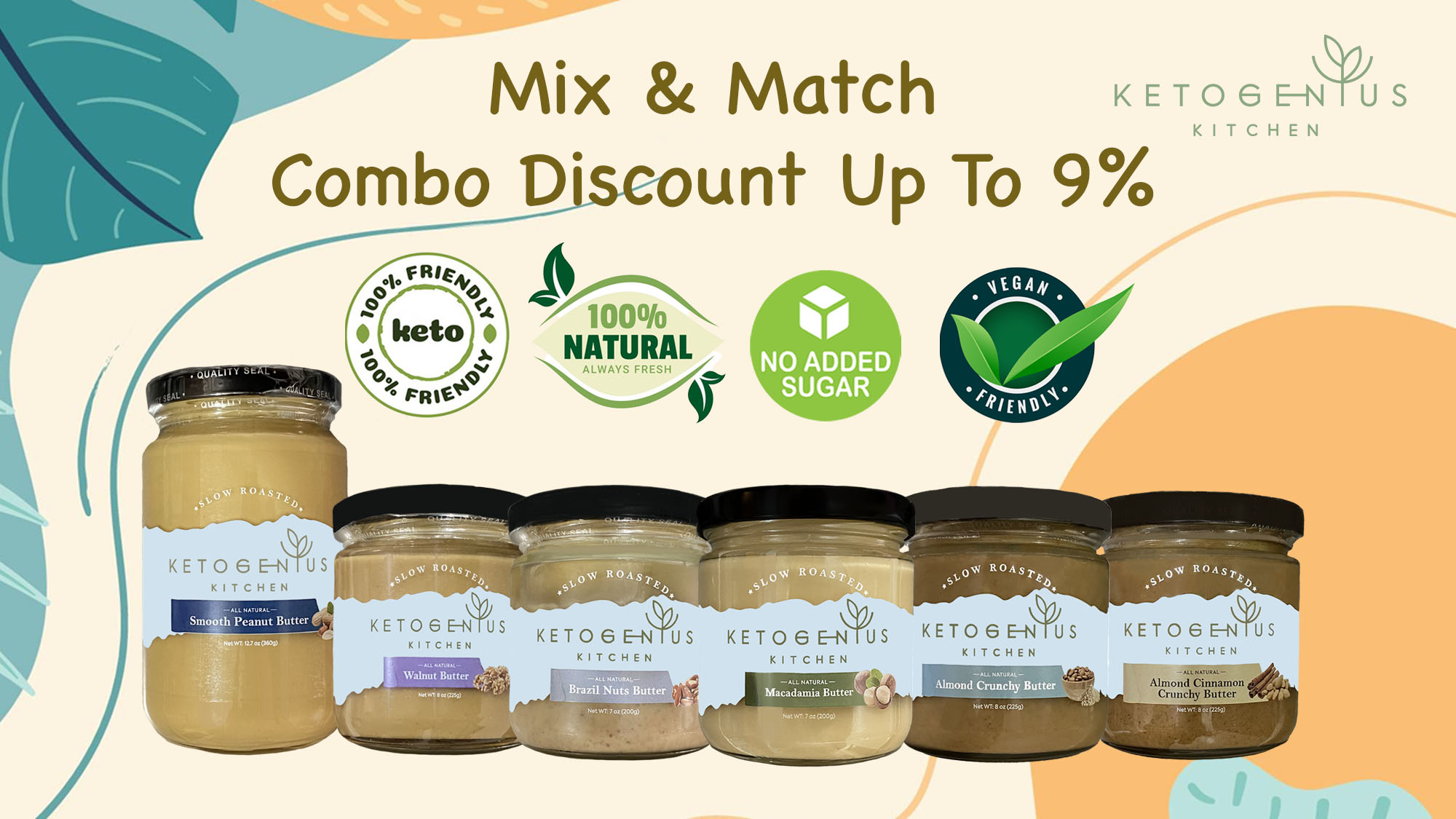 🥜 Contains 2 simple ingredients only which are slow roasted almond (99.9%) and sea salt (0.1%)
🥜 Vegan, keto-friendly and diabetics-friendly
🥜 100% natural with no added sugar, oil and preservatives
🥜 It has an ultra-thick and creamy taste, extremely savory, satisfying, and has the ideal texture and consistency
🥜 Besides pairing with low-carb bread, you can also use for cooking, baking or topping for salad or chicken.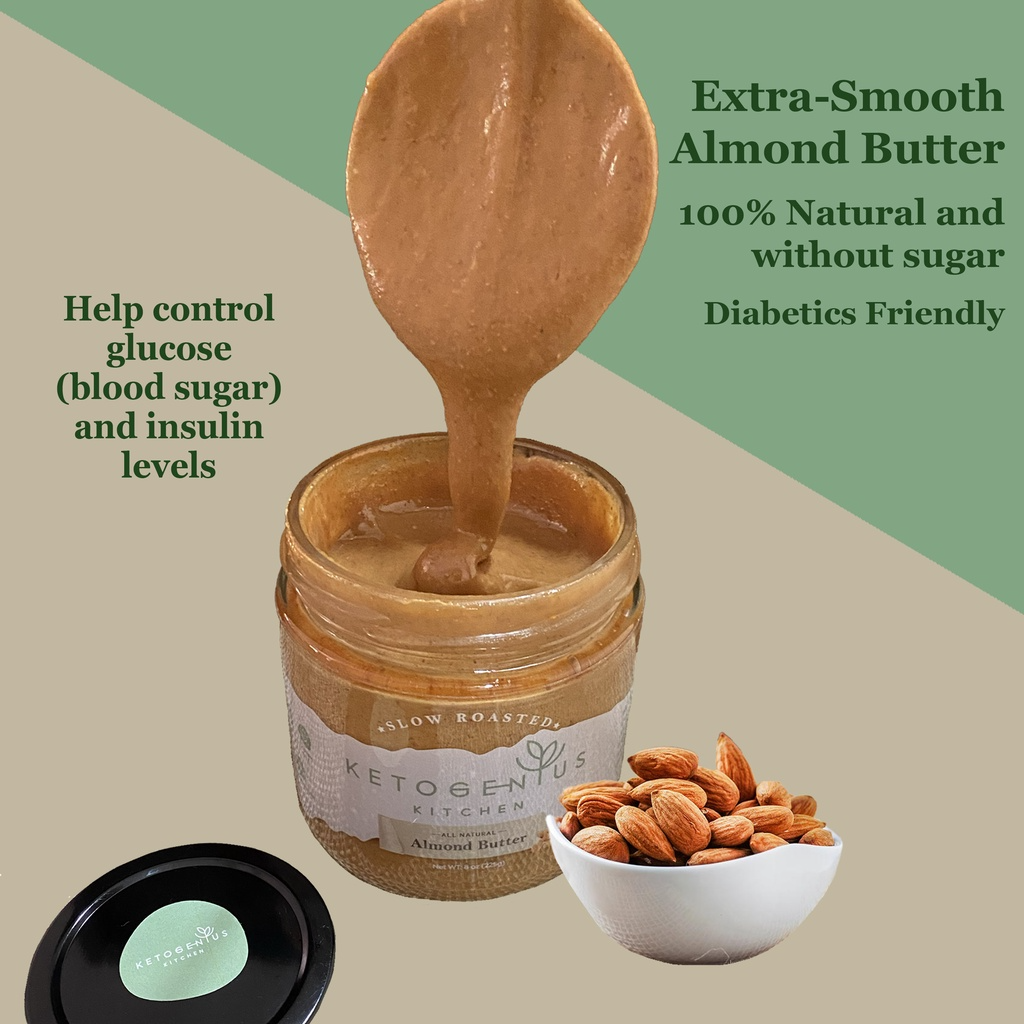 𝐀𝐥𝐦𝐨𝐧𝐝 𝐁𝐮𝐭𝐭𝐞𝐫 𝐯𝐬. 𝐏𝐞𝐚𝐧𝐮𝐭 𝐁𝐮𝐭𝐭𝐞𝐫: 𝐖𝐡𝐢𝐜𝐡 𝐢𝐬 𝐇𝐞𝐚𝐥𝐭𝐡𝐢𝐞𝐫?
In overall, almond butter has certain health advantages over peanut butter. Almond butter contains a higher amount of magnesium, phosphorous, potassium, and calcium. Our body could not produce energy without magnesium. It is also vital for bone health. Whereas, potassium is an essential electrolyte that the body requires for normal function.
Almond butter has a slightly higher amount of unsaturated fats too. Unsaturated fats are benefited for general health. There are two different families of unsaturated fats: omega-3s and omega-6s. Human body cannot make omega-3s and omega-6s on its own, so it is necessary to get them through foods.
Many people do not get enough omega-3 in their diet. Eating enough unsaturated fats is associated with proper growth, development, and anti-inflammatory properties.
The natural sugar contains in almond butter has roughly 20% lesser than peanut butter too which make it healthier.
Even though almond butter is healthier in general. However, each nut has its own nutrients which benefited our body. Eating many different foods, including a variety of nuts, can help the body to get all of the essential nutrients our body needs.
Price as low as RM23.84 per bottle. See combo promotion.
Combo Promotion
Applicable to Macadamia Butter, Pecan Butter, Brazil Nuts Butter, Pistachio Butter, Almond butter, Almond Crunchy Butter, Almond Cinnamon Crunchy butter, Hazelnut Butter, Cashew Butter, Pumpkin Seed Butter & Walnut Butter (225g/ 200g only):
Buy any 2 Nuts/Seeds butter save 3% (RM25.41 per bottle)
Buy any 3 Nuts/Seeds butter save 5% (RM24.89 per bottle)
Buy any 4 Nuts/Seeds butter save 7% (RM24.37 per bottle)
Buy any 5 Nuts/Seeds butter and above save 9% (RM23.84 per bottle)
* Not applicable on major Sales day

Benefits
⭐ Heart Healthy, Lower blood sugar levels, blood pressure and lower cholesterol levels
⭐ High in vitamin B and zinc which contributed to the maintenance of healthy skin
⭐ Rich in vitamin E – an antioxidants nutrient; preventing weight gain and reduce breast cancer risk.
Nutrition Facts