Description
If you are a fan of pistachios, you should try out our roasted Siirt pistachios which are imported from Turkey. Turkey is a major producer of pistachios, ranking third in worldwide production after Iran and the United States.
Siirt pistachio nut is slightly smaller than other varieties. However, it offers distinctive, rich, tantalizing and more vivid flavor than the other varieties and is slightly more expensive than the larger varieties grown in the United States.
Why choose Turkish Siirt Pistachio over USA California Pistachio?

𝐇𝐢𝐠𝐡𝐞𝐫 𝐊𝐞𝐫𝐧𝐞𝐥 𝐭𝐨 𝐈𝐧-𝐒𝐡𝐞𝐥𝐥 𝐑𝐚𝐭𝐢𝐨 - more edible meats (kernel) = better value of money

𝐃𝐢𝐬𝐭𝐢𝐧𝐜𝐭𝐢𝐯𝐞, more 𝐯𝐢𝐯𝐢𝐝 and 𝐝𝐞𝐞𝐩𝐞𝐫 flavor than USA Pistachio

𝐍𝐚𝐭𝐮𝐫𝐚𝐥𝐥𝐲 𝐬𝐰𝐞𝐞𝐭𝐞𝐫 than USA Pistachio
Benefits
Pistachios are a great source of healthy fats, fiber, protein, antioxidants and various nutrients. Loaded with nutrients, High in antioxidants, low in calories yet high in protein, assist weight loss, promote healthy gut bacteria, reduced cholesterol and blood pressure, promote blood vessel health, reduced blood sugar. They are the lowest-calorie nut and super filling due to the fiber, protein, and unsaturated fatty acids in pistachios.
Nutrition Facts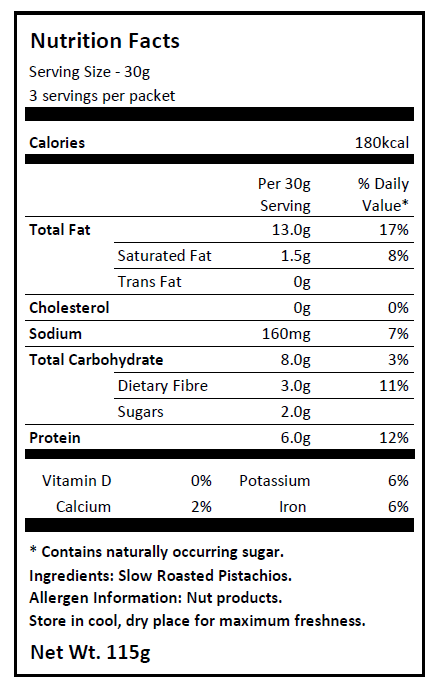 Origin
Turkey
Allergen Information
Nut products
Storage Instruction
Store in cool, dry place for maximum freshness.