Description
Pecan Butter which certified as a "Heart-Healthy Food" is smooth, flavorful, and unbelievable mouth watering! This nut butter is a best source for keto diet as they contain as low as 1.3 net carb per serving.
Ketogenius Kitchen's pecan butter added nothing but pure natural lightly roasted pecan with tiny little salt to enrich the distinctly sweet and buttery flavor, and a mildly floral, and forestry aroma.
These nuts help to fight cancer as well as boost your immune system. They are packed with full of protein and cholesterol-free where they are great for vegetarians too as they makes an excellent substitute for meat. You just might say goodbye for peanut butter forever.
It is a perfect match in pairing with sweet flavors, like chocolate or cinnamon to enrich the battery flavor from the Pecan. It's a great binding agent, so use it to firm up your veggie low-carb burgers and add a nice, nutty texture.
Price as low as RM30.85 per bottle. See combo promotion.
Combo Promotion
Applicable to Macadamia Butter, Pecan Butter, Brazil Nuts Butter, Pistachio Butter, Almond butter, Almond Crunchy Butter, Almond Cinnamon Crunchy butter, Hazelnut Butter, Cashew Butter, Pumpkin Seed Butter & Walnut Butter (225g/ 200g only):
Buy any 2 Nuts/Seeds butter save 3% (RM32.88 per bottle)
Buy any 3 Nuts/Seeds butter save 5% (RM32.21 per bottle)
Buy any 4 Nuts/Seeds butter save 7% (RM31.53 per bottle)
Buy any 5 Nuts/Seeds butter and above save 9% (RM30.85 per bottle)
* Not applicable on major Sales day

Benefits
Good source for keto diet with low carb content. Rich in more than 19 vitamins and minerals element. Heart healthy, reduce risk on certain cancer, improve digestion and helps with weight loss, boost immunity, anti-aging, anti-inflammatory, memory-boosting.
Nutrition Facts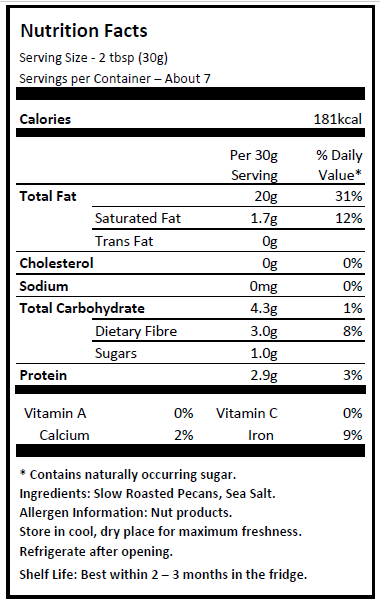 Allergen Information
Nut products
Storage Instruction
Store in cool, dry place for maximum freshness.