Description
Addictive with cookies? Find it difficult to have a keto cookies which is rich in chocolate? Yes, you are at the right path. Our keto double chocolate cookies are crunchy yet soft. It suitable for keto diet with 1.5 net carb per serving only. They are also suitable for people who are in low-carb diet, healthy diet and diabetics friendly.
Packing: Each cookie is packed in individual bag. 220g per pack/ estimated 15 pieces cookies.
Ingredients
What are our 𝐊𝐞𝐭𝐨 𝐂𝐨𝐨𝐤𝐢𝐞𝐬 Made of?

Ghee: Ghee is a clarified form of butter. According to Ayurveda, it improves the absorption ability of the small intestines and decreases the acidic pH of our gastrointestinal tract. Ghee is a rich source of Omega-3 fatty acids which decrease LDL cholesterol.

Eggs: Eggs are an excellent source of high-quality protein. It contains essential vitamins and minerals such as A, D, calcium, cobalamin, iron, and magnesium.

Allulose: Allulose is a keto-friendly sweetener and low in calories. Best of all, it's approved by the FDA. Based on a 2018 study, allulose as a rare type of sugar has positive effects on obesity. In human subjects, allulose reduced body fat mass and is suitable for individuals with diabetics.

Almond Flour: We used almond flour for the cookie dough base. Almond flour is better than most flour types because it's low in carbohydrates and higher in fat — perfect for someone who's embarking on the keto journey. Almond flour is also gluten-free.

Unsweetened Chocolate: We used unsweetened chocolate for our cookies. You will feel the richness of chocolate in every bite of it.
Again, Ketogenius Kitchen uses 100% natural ingredients and it is definitely SUGAR FREE (contains natural sugar only) for all our products. Therefore, relax and enjoy the power of the natural ingredient which brings to your body
Texture (Improved version)
Rich in chocolate, crunchy on the side and soft in the middle, you can feel the cocoa melting.
Nutrition Facts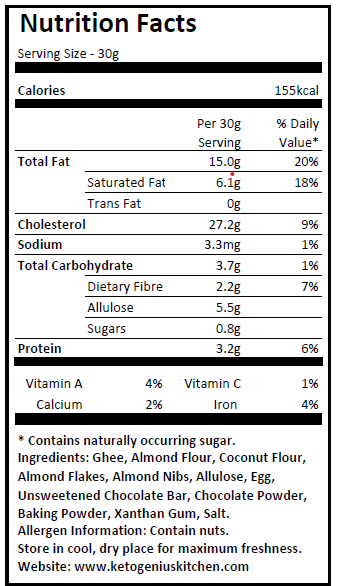 Allergen Information
Contains Nuts